Just over three years ago, I started a blog series on representation in writing—Writing Diversity. After the third post, my life turned into somewhat of a rollercoaster and, while the subject remained close to my heart, any thoughts on writing about it were put on the backburner.
Last December, when looking at my achievements of 2019 and pondering what I wanted to focus on in 2020, the topic of representation cried out for attention. And who am I to heed that call?
After all, diversity is still a hot topic.
In previous posts, I've explained what representation is, how it works, and why it matters. I talked about the dangers of essentialism and tokenism. Today, I want to discuss another pitfall, something I've been calling exclusive inclusivity.
Exclusive inclusivity
What is exclusive inclusivity?
When a positive and/or more nuanced representation of one group comes at the expense of another group.
In trying to represent a minority in a respectful way, a way that provides more nuance and complexity, this sometimes happens at the expense of the representation of others. In other words, our attempts to elevate one group—for example through the countering of stereotypes—can bring down others.
This can mean two things:
in representing one minority in a better way, we create a negative representation of and/or perpetuate harmful stereotypes about another minority, or
in giving a platform to one minory, we exclude others.
In some cases, both are at work at the same time.
Why is exclusive inclusivity bad practice?
Let's be honest. Excluding or representing certain minorities in a negative and/or stereotypical way is bad practice just because. However, there's more to it. When we purposefully want to elevate minority voices in our work, it's usually for a reason: to give the floor to characters that aren't represented in the best possible way thus far, if they are represented.
The majority has always decided who gets to speak and which representations are taken to be true. I don't think it'll come as a shock when I say the majority has represented itself positively at the expense of the minority for ages. It's what enabled them to stay in power all this time.
Despite the status quo slightly shifting, most of the world is still ruled by white men, most of whom straight and middle-class. Those authors who are appraised most? They belong to that same normative category.
This is why women writers have been speaking up as much as they do and why organisations and movements such as We Need Diverse Books and #OwnVoices are wildly popular. We are sick and tired of that status quo.
However, if we fall into the exclusive inclusivity trap in our attempts to bring more diversity into our work, we're perpetuating the same structures that created that status quo in the first place. We lift one group up by bringing another down.
Pinkwashing 
While this post is intended for those with an honest intent to represent minorities in a better way, some of the best examples of what exclusive inclusivity can look like happen on a more political level.
Initially, the term pinkwashing was used to refer to companies who, on the outside, seemed to support those with breast cancer. A more critical perspective showed that these companies profited from those who were suffering from this disease and were just using it to portray themselves in a better light.
Nowadays, pinkwashing is also used to refer to those who represent themselves as LGBTQIA*-friendly so that the larger public sees them as tolerant, progressive, and modern. Governments criticised for pinkwashing are often accused of boasting their pro-gayness because it helps distract from other exclusionary practices and even gross human rights violations.
From pinkwashing to homonationalism
Pinkwashing is not just about organisations or countries trying to demonstrate that they are modern and progressive and tolerant and therefore awesome. It's also about them wanting to remind everyone that they are MORE modern, progressive, and tolerant than other organisations or countries.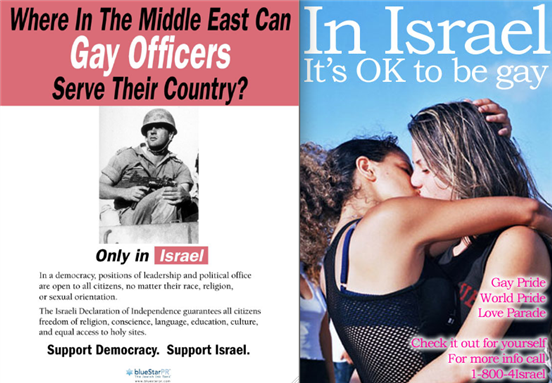 For example, Israel is known for calling itself the only place in the Middle East where it's OK to be gay. Whether or not that's true, it creates an US versus THEM situation. We're on the right side of history, and they are not. And this is where homonationalism comes in.
Homonationalism is a term used to describe the pro-LGBTQIA* rhetoric used by mostly right-wing movements and parties to mobilise people against communities that are considered traditional, conservative, and intolerant.
This is such a tricky one! Because isn't it awesome that those movements and parties, who never cared much about anyone under the LGBTQIA* umbrella before, are suddenly all about 'our gays' and how they need protection? Shouldn't we be celebrating that?
Some do celebrate that, actually, even those who originally belonged to the left. But, if the only reason you are backing a minority is because it spreads xenophobia and helps you in your aim to exclude another minority, in this case Muslims… How pro-gay are you really if your pro-gayness is a means to an end?
It's dangerous territory, and not only because it promotes hate towards particular groups. It also creates the belief that certain communities are mutually exclusive. As if there is no homophobia in the western part of the world. (I wish.) Likewise, as if there are no lesbian, gay, bi, trans, queer, and so on Muslims.
If everyone believes that Muslim ≠ LGBTQIA*, and if that is how we represent them in our work, it means that those Muslims who do fall under this umbrella, including allies, have nowhere or no one to turn to. It might also mean that homophobia by non-Muslims is downplayed. After all, how bad can it be? Didn't you hear western countries are terribly modern, progressive, and tolerant?
Trans-exclusionary
Where homonationalism preaches the idea that you can't be pro-LGBTQIA* and pro-Muslim, or pro-multiculturalism, the past decade has also seen a growing movement of feminists who argue that you can't be pro-women's rights and pro-transgender rights: trans-exclusionary radical feminists.
TERFs, as they are also called, believe that transwomen are a danger to women who were born with a female body, arguing that transwomen shouldn't be considered as women, shouldn't have access to women's spaces (think bathrooms), and shouldn't work at women's organisations.
When I still taught gender studies courses at university, I always explained to my students that, to me, feminism was about critically considering all power dynamics. Not just the relation between men and women, but also between black and white, gay and straight, human and animal, the different classes, different ethnicities, and different (dis)abilities. This includes scrutinising the power dynamic between cisgender and transgender people as well.
As such, and this is my not so humble opinion on the matter, you can't be a feminist without not also supporting gay rights, black rights, transgender rights, animal rights, the rights of the disabled, and so on and so forth.
If you're excluding other minorities in your bid for another minority's equality, you fell into the trap of exclusive inclusivity.
Stonewall
Thus far, I've talked about politics. Let's turn to cinema for an example of exclusive inclusivity within cultural representation. The film Stonewall (2015) received criticism even before it officially hit the theatres.
The protagonist of this film is Danny Winters, a white gay guy from a small town who flees to New York. In the film, Danny is the one throwing the legendary first brick of the Stonewall riots.
Many LGBTQIA* rights activists, including those who were at the riots themselves, spoke out against the film. Amongst other things, the film is considered to be just another attempt at whitewashing history. It is said to inadequately show the diversity of those who participated in the riots. To make matters worse, the lead of the film was a white man who, according to many, acted too straight to represent the members of the Stonewall community.
People disagree on whether that legendary brick was even thrown at the Stonewall riots, but those who believe it was tend to credit Sylvia Riviera, a Latina American drag queen. Marsha P. Johnson, a transgender woman of colour, is also mentioned as the one who started the riots (something she herself denied). Having the brick thrown by a white, cisgender man, who was criticised for acting too straight, does not only whitewash what was a much more diverse community—it also ciswashes this particular moment in history.
The film might represent a part of the LGBTQIA* community in a better way than we're used to seeing, but it did so at the expense of those who are not cisgender and/or not white.
To sum up
If you intend to be inclusive of certain minorities, make sure you're not doing it at the expense of others. Make sure you're not representing one minority in a better way by representing another more negatively. Try not to give space to one minority by excluding another.
What a waste of good intention that would be.